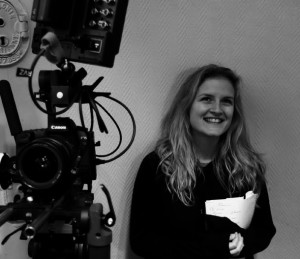 Alexandra was born and raised in Paris until the age of 14. She then went to highschool in Geneva and hurried back to Paris to begin film school. Not at all satisfied with her experience there, she decided to move to New York where she attended the New York Film Academy (beginner's and advanced film workshops) and School of Visual Arts (B.F.A Directing).
Her passion for film – more precisely how films are made – started at an early age and was sparked by films such as E.T and The Never Ending Story. She wondered "how did Elliot ride a bicycle with an extraterrestial in the sky?" or "how did Bastian manage to ride on the back of giant flying dog/dragon?" Even if these big budget commercial films are not the genre Alexandra wants to direct, they have definitely had an influence on her in her 'penchant' for American films.
After finishing her B.F.A in directing, Alexandra worked as an intern on several films (People I Know starring Al Pacino, It Runs in the Family starring Michael Douglas, and Spike Lee's 25th Hour and She Hate Me) and then as a production assistant and production coordinator (Spike Lee's Inside Man, Mary Harron's The Notorious Bettie Page). Working on these films was an amazing experience, but Alexandra quickly realized that she needed to find a job that would get her on set. She decided to try script supervising, which quickly proved to be a second passion after directing. She worked on several short films in New York before moving back to Paris in 2006.
She started as an intern to Sylvette Baudrot, perhaps the most famous and respected script supervisor in France, on Julian Schnabel's The Diving Bell and the Butterfly. Since then, she has worked on a variety of indie and big budget films such as Wes Anderson's The Grand Budapest Hotel, Abel Ferrara's Welcome to New York, Nick Sandow's The Wannabe, Joe Castelo's The Preppie Connection as well as Amazon's hit show Mozart in the Jungle.
Aside from working as a script supervisor, Alexandra has also directed several short films: Central Park, The Killer (Entry level winner of the feature film competition on Filmmaka.com), and The Stairway (which won Best Director and Best Short Film shot on a Micro Budget at the American International Film Festival).
In 2012, she directed Au Fil du Banc (English title: Once Upon a Bench) an award winning short film produced by ROSSPROD. The film won the best short film award at the Warsaw Jewish Film Festival and was selected in dozens of festivals throughout the world. It also aired on French national television France 3 and Switzerland RTS 2.