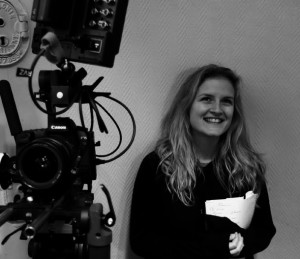 Alexandra, a French filmmaker based in New York, grew up in Paris and Geneva before moving to New York where she took directing workshops at the New York Film Academy and later completed a B.F.A in directing at the School of Visual Arts.
During her studies, Alexandra directed several shorts, but also decided to gain experience by interning on movies such as People I Know starring Al Pacino, It Runs in the Family starring Michael Douglas, as well as Spike Lee's 25th Hour and She Hate Me. After graduating, she worked as a production assistant on Inside Man and post-production assistant coordinator on The Notorious Bettie Page.
In 2006, she decided to switch gears and began working as a Script Supervisor. She was an intern to Sylvette Baudrot, perhaps the most famous and respected script supervisor in France, on Julian Schnabel's The Diving Bell and the Butterfly. Since then, she has worked on a variety of films and series such as Spike Lee's Blackkklansman (Winner of the Grand Prize at the 2018 Cannes Film Festival and Oscar winner for Best Adapted Screenplay), his Netflix series She's Gotta Have It, Wes Anderson's The Grand Budapest Hotel, Reed Morano's I Think We're Alone Now, Abel Ferrara's Welcome to New York, and more recently, Ava Duvernay's mini series for Netflix, Central Park Five (out Spring 2019).
Alexandra has directed several award winning short films: Central Park, The Killer (Entry level winner of the feature film competition on Filmmaka.com), and The Stairway (which won Best Director and Best Short Film shot on a Micro Budget at the American International Film Festival). In 2012, she directed Au Fil du Banc (English title: Once Upon a Bench) produced by ROSSPROD. The film won the best short film award at the Warsaw Jewish Film Festival and was selected in dozens of festivals around the world. It also aired on French national television France 3 and Switzerland RTS 2. Her latest film, The Mermaid's Journey is currently in post production.